Planned observing evenings for the 2023-2024 season will be held in Lacock on the dates in this PDF schedule.
Note, the new observing location is behind the Stables Cafe (google maps link), which is still accessible from the Red Lion Pub car park.
Postcode: SN15 2LQ
w3w = staring.trees.nightfall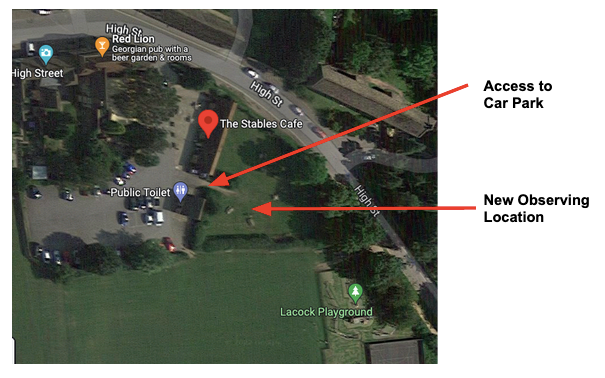 Observing sessions are weather dependant, notifications will sent on email to the Wiltshire AS observing email list. A reminder email is sent a few days before plus a confirmation "ON" or "OFF" email on the day based on the weather and confirming the start time. Please always refer to the "official" email from the list for the confirmation. Sign up to the observing (only) mailing list below.
Members are free to organise an ad-hoc session for other reasons and at other locations, such as astro-photography, solar observing etc, with other like-minded members. The Society Members Facebook Page or through the WAS contact page on the website can be used.
Feel free send us a message via our contact page (link) or post a message to our Facebook page (link).